DOWN UNDER TREASURE HUNT
A seven day, break-neck tour of Australia's largest auto swap meet, and old car search
The Sunday morning ritual for many of us motor heads comes without the need for ear shattering alarms, wakeup calls from 1-900-WAKEUP!, or a nudge from our partners. Our genes have long grown accustom to this weekly oh-dark-thirty rise from a warm bed to the harsh reality of the cold swap meet parking lot. Just give us a quick gulp from a scalding hot coffee styrofoam, a few bites from a day-old donut and we're ready for action.
The addiction to swap meets runs deep for most of us and many have highly honed skills of ferreting out that long-lost NOS part that alludes even seasoned pros. A swap meet "kill" can be compared to bagging the big one in Africa or hitting an inside-the-park home run at Dodger stadium. But after a few seasons at the ol' home turf, some of us long for a change a pace - new faces, different junk (er, ah, treasures). Sometimes you gotta' go for the gusto, grab the golden ring and throw the dice. When you're tried of the same old stomping grounds, it's time to pick a new location and see if they have the most important ingredient; a car swap meet. Forget the plush hotels and fancy restaurants, ask if they have parts for a '32 Vicki?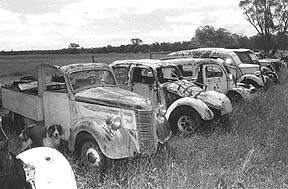 Last winter, the rare opportunity arose when a long distant friend placed an invitation on my lap that simply could not be brushed aside. The invite was to visit Sydney, Australia, land of Olivia Newton John, "Crocodile" Dundee and Kangaroos for one week. The price tag for the transatlantic flight from LAX was a hefty $1200. Of course, if I had planned a few weeks ahead, the price would have been around $900 for a better non-stop flight direct to Sydney. But no cigar. If I really wanted to see the land down under and visit the famous Bendigo Swap Meet near Melbourne, the check had to be written and right away. The departure was only one week away and time was flying by. A trip to L.A. for the required tourist visa was necessary and a check on the weather during the month of November told me it would be shorts and T-shirts - my kind of place (their seasons are 180° of ours). One week later, ANA Airways left the L.A. smog behind and headed south west towards Tokyo and finally on to Sydney.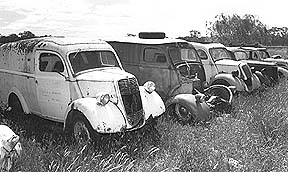 The following day and some 24 hours since leaving L.A., the land of OZ could be seen on the horizon. By the time our feet actually touched the deck, I couldn't tell you if it was time for lunch, dinner or breakfast, much less what day it was. Talk about being out of synch. Had I really skipped a cog and today was actually tomorrow? And does the water in the sinks really circulate in a different direction than in the States? As it ended up, today was actually Thursday which in our case was tomorrow, since it was still Wednesday back home or yesterday. Got that?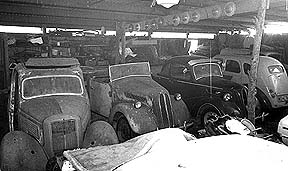 Our tour guide and host for the week was long-time car buff, Peter Jackson of St. Marys. For the past twenty years, the Jackson crew has been making the 400+ mile pilgrimage south to Melbourne to sell their wares at the Bendigo Swap Meet. This by all accounts, is the largest auto swap meet in all of Australia. The annual event supports well over a thousand sellers from all parts of OZ and buyers number in the tens of thousands.
Without skipping a beat we jumped from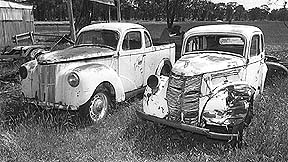 aisle seat on a 747 to shot gun in Peter's shop van and headed south towards Melbourne and to nearby Bendigo. As soon as the main road took us past the city limits and into the country-side, we knew we were in for a great ride. Just about in every backyard we looked, we saw old cars and tons of old trucks, which down under are referred to as "Utes," short for utility. The term has been around since the forties when pickup trucks were a rare commodity and local coachbuilder would convert sedans and coupes into one-off vehicles with beds. What differes from your basic pickup truck was the back of the cab which was hand-formed using the rear section of the passenger car roof and rear window. Often, these utilities would feature a rear quarter window unlike most pickups we're familiar with here in the States. Utes are really cool and come in some of the strangest configurations imaginable. Take any early forties and fifties Ford passenger car and imagine making it into a pickup. These creatures are everywhere!
After a full day of old car sightings off the main road, we finally reached our destination, the city of Bendigo. The night life during the big swap meet was a non-stop cruise through the downtown sections and many of the local eateries. Bendigo was not without is familiarities as it contained just about all the major fast food stops based in the States. But the Jackson crew was not up to a basic Big Mac combo, the guys wanted to step on the wild side and "experiment" with Mexican food. After a fleet of Nachos and a few gallons of Margaritas, they were hooked.
The following morning, Friday if you've lost track, was move-in day for Bendigo and with it brought some unusual unwritten rules about no Friday selling. If a seller is caught selling merchandise on Friday, they could lose their stall and be asked to leave at once - no kidding! The few vendors that we tempted with an early sale acted very nervous, were apprehensive about making any kind of deal and some wouldn't even talk about what they parts they had for sale. While just about anyone could buy a pass to get into the fairground during Friday, unlike Pomona and other major swap meets here, you're basically wasting your time. Imagine being at a swap meet and seeing a very rare part and having the seller tell you, "Not today Mate, come back tomorrow?" Talk about culture shock.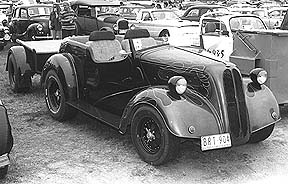 Saturday finally came and sellers were finally eager to sell their wares and makes some deals. Because of the layout of the fairgrounds where the Bendigo Swap is held, many of the vendors display their parts in the dirt and few place tarps down to keep the dust from overtaking their stalls. This made parts searching even more difficult for a foreigner such as myself. For those wondering, the meet was FULL of early Ford parts but they along with parts for Holden (GM), Willys, Falcon, Valiant and God knows what else, were piled on top of each other. Pricing was another puzzle. Currently, the U.S. dollar exchanges for about $1.42 for every Australian dollar, or, 70¢ U.S. equals $1 Australian. If you see something for $5 Australian, then you can figure it will cost you about $3.50 U.S. We simply multiplied every price by .70 to give us a close idea. Pricing was for the most part, very reasonable and in a rare move by yours truly, I didn't have the heart to grind them down on price! Now, you may find parts for your particular car expensive but for a sidevalve Ford lover, namely the small Ford Anglia such as myself, if you could find the parts in the dirt, the deals were great.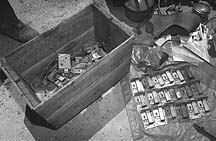 For two solid days, we scoured the meet for anything that resembled an Anglia part and for the weekend, did incredibly well. We even purchased a restored 1950 Ford Prefect Ute for a personal shop truck for Anglia Obsolete (see elsewhere in this web site). This would be the same vehicle as the Anglia Ute, with different front sheet metal attached. While the price of the Ute and parts we found were very affordable, shipping was a another matter. Unless you can manage to pack your treasures in two over-sized suit cases and check them as baggage, the shipping prices will scare you to death. A word of caution, before you jump on some large sheet metal part (or complete body) with visions of getting it home cheaply, think again. Do yourself a favor, check into ocean freight before you make the plunge.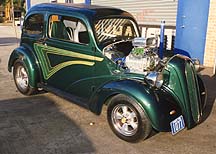 Immediately after the Bendigo Swap Meet, we drove over to see Alan Steven's amazing collection of early Fords. Many of the photos you see here, are from his home in Bendigo. We saw everything from Utes, Tourers, Prefect Utes, four-door 7W sedans, and Model C sedan. He has an incredible amount of stuff, much of it, was not for sale at the time of our trip.
I can tell you this about my one week trip "down under." First and foremost, it was well-worth the price and I would do it again in a heart beat. Thanks to my good friends Peter Jackson and crew, we managed to see numerous trick street rods, wrecking yards and oh yes, a few great sights along the way. The land is breathtakingly beautiful, and the many small towns we passed each had their own main street full of small shops, cafes and friendly people. Seeing old cars driven on a regular basis and kept seemingly forever in the backyard was a fresh switch from our throw-away society. If you're into old cars, like to travel, meet new people, and search for old and unusual cars and "Utes," you'll love Australia.