All About English Ford Grilles

One of the most common questions I get asked about Anglias and Prefects is, how do you tell one year from another? Well, without filling upthis web site with facts and figures, I will try to give this subject a once-over-lightly - but still shed some light onto this important subject. Chapter One: Front Grilles.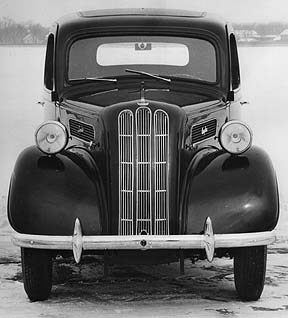 You should first know that Ford of England first exported cars and light trucks to North American in the spring of 1948. These of course, were 1948 model year and were left-hand drive. Vehicles designated for North America carried the N.A.S.S. tag, which stood for North America Sales and Service, which main office (not manufacturing) was based in Dearborn, Michigan. These vehicles were unique in many ways when compared to the majority of Anglias, Prefects and Thames trucks which were produced by the Ford Dagenham plant, located near Essex, England, which still produces cars today (Sierra, Escort, etc.). Some of these unique features included front park lights, sealed beam headlights, 16-inch wheels, 10hp/1172cc engines, and left-hand steering.
In 1948, these NASS-spec. Anglias and 1/4-ton Thames vans came from the factory with a 3-slotted front grille. The Anglia grille came with chrome trim surrounding each slot, while the Thames did not. Anglias and 1/4-ton Thames produced for markets outside of North America, which usually were right-hand drive, used a more common 2-slotted front grille, and both vehicles came with stainless trim rings aroun both slots.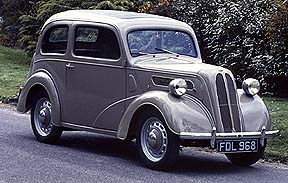 Now, the 3-hole grille was used only on NASS cars and trucks during the 1948 model year and quite possibly, a few left-over 1949s as well. Otherwise, the only other time Ford used this 3-hole grille, was on the 1938-1939 model Ford Ten, or sometimes called the 7W. As you can see, the 3-hole grille is much more common here in the States, and finding one in England in rust-free condition is very difficult indeed.
Along with the 2-hole and 3-hole grilles, there is one other type that is interchangeable with the others. And that is the one-hole grille, which was used on the Ford Eight (both the sedan and the 1/4-ton van), during 1938-1939, and is sometimes called a 7Y grille. Like the 3-slotted grille, you will sometimes see this grille on 1948-1953 body style cars and trucks, but technically, this grille is way too early to be used on any sedan that came from the factory with a "hump" on the rear trunk. The 7Y/Ford Eight sedan came with a slant-back body style similar to the Prefect, but without the lower spare tire access panel.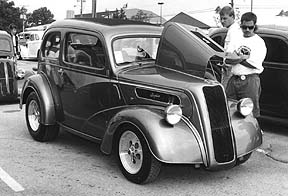 During 1948-1953, the Prefect came with two different front grilles, and for that matter, completely different front sheet metal as well. The 1948 (NASS) Prefect, (E93A), came with a grille that featured horizontal bars. This was the same grille that right-hand drive cars were fitted with as far back as 1939. It was a chrome-plated casting, and was rather complicated to say the least. In 1949, the Prefect (E493A), came with a new grille assembly to go along with the new sheet metal and fender-mounted headlights. This grille featured vertical bars and was a stamping. It was simpler in design and even though it was chrome plated, it usually appeared a more stain finish, almost like stainless steel. Unlike the three Anglia grilles, these two grilles are definitely NOT interchangeable.