Treasure Hunting in San Diego

The Internet is an amazing thing. You can receive messages from all over the world and most of the time, you don't have a clue to who is actually writing you or, where in the hell they are calling from. A perfect example happened about one month ago, when I received an E-mail from someone named "Karen," who asked for some information about Thames panels. I responded the following day, and gave her the usual A-Z, and the who-what-where and when. Her next response was to forward me a bright clear JPEG of a two-toned panel that once belong to her late father, and with a note stating that she might want to sell it (to a good home). The race was on...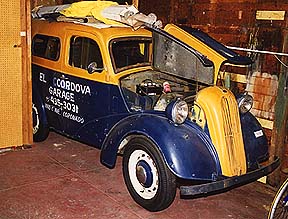 I have a 20-inch Super Mac (computer) monitor at home, that allows me to see things extra clear. When I opened up her JPEG file and it expanded to the full width of my monitor, my jaw quickly dropped a full 3-inches. The address on the side of the truck said, "Coronado," which is an island right off the bay of San Diego (twenty minutes from my house!) I was stunned. My next response was to fast-forward the file to 'ol Rob Stuart, and let him drool on the bait. Only a few minute past before the phone rang, and guess who was on the line? Yup, Mr. Austin. After discussing the situation with a real expert in wheeling and dealing, we came up with a game plan to snag this beast for the lady only named "Karen." I should mention that up to now, I know nothing about this lady, where the Thames was stored, and what in heaven's the price might be. Even though I E-mailed her back and forth for over a month, she never gave me her last name or, a phone number to call.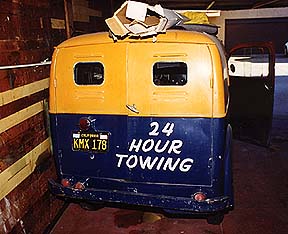 After the holidays were over, I finally got her to agree to a meeting to see the Thames close up and in person. Rob came along on that fateful day, to give me moral support, and to actually see a "thirty-year old garage find." We arrived a bit early for our meeting, so we traced-down the location of the Cordova Garage which was sign-painted on the side of the truck. Amazingly enough, the garage was still there and in business! We then drove back down this alley and saw the garage where it was supposed to be stored. Karen showed up a few minutes later and after giving us the once-over (I think she liked Rob because he told her he was once a famous surfer), she motioned towards the building. The big moment came next as the garage door creaked open and there it was, back in the corner, and covered with rolls of carpeting and blankets.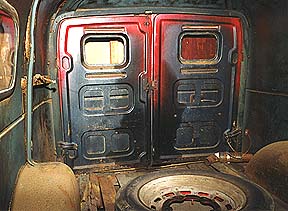 Over the years, I have been on dozens of wild goose chases, where the car was supposed to be an Anglia, Thames, or Austin, only to turn out it was some dumb car I never heard of before, that was totally worthless. This time, however, our luck had changed. This Thames was the "Real Deal." According to Karen, it was titled as a 1953, but the first year sold was 1954. With that information, I quickly wondered could this truck be one of the last built with steel rear doors? It took Rob and I about twenty minutes to get her to let us pull the truck out from against the wall enough, to see the backend closely. And yes, there is a God, they were steel! The more we looked at it, the more we liked what we saw. No rust anywhere, despite the fact that Coronado Island is surrounded by salt water. Everything was there including the factory tools, oil bath air cleaner, two seats, glove box liner, and a reported running engine. The one area that did not make us happy was the fact that someone had cut large side windows into the panel, to no doubt, make driving a bit easier. They did a good job, but it was not a factory installation.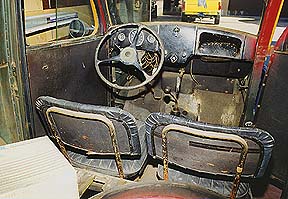 Rob decided that we could get a better look at the truck, if we could only push it out in the sun, but, Karen wasn't going for it. Our twenty minute stay was over, and if we wanted to make an offer, we could E-mail it to her. And that was it. During the drive back to my house, we tossed around what we should offer her so that we wouldn't insult her, or the rest of the family. Since this was her late father's oldest car remaining, there was a certain amount of sentimental value to it as well.
The following day, I E-mailed my offer and went into great detail of what I planned to do with it, and why. For the next two days, I worried about her response. Rob felt that she would come back with a high counter-offer, but there again, she might just want to get the truck out of her (their) life. That night, I checked my E-mail and there it was, a letter titled, "Thames offer." With nerves rattling, I opened up the file and she agreed to my offer - no counter was asked. Amazing.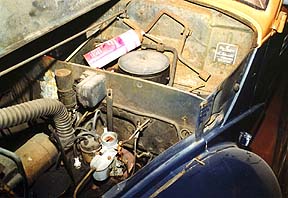 The following Sunday, we drove back to the alley and met the family in front of the garage. And from the time we arrived, to the time we towed the Thames down the road was only twenty minutes, for real! I handed the brother an envelope with the cash, and they never bothered to count it. Once he helped us push the truck up the ramps, they handed me the title (originally dated 1958!), and asked if we could finish-up by ourselves. Okay, bye! To this day, I still don't know what Karen's real last name is, or her address or phone number. This entire transaction took place over the Internet. Who would have ever thought that was possible, only a few years ago. Just imagine, what wheelin' and dealin' in the future will be like. Happy hunting!